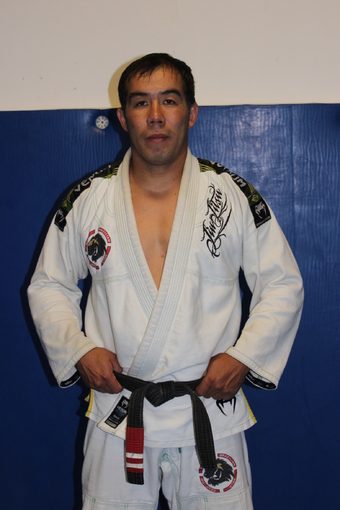 Black Belt (2nd Degree) in Brazilian Jiu-Jitsu
Black Belt (1st Degree) in Judo
Specialist in Muay-Thai Kickboxing
Specialist in Kyokushin Karate
Former No Hold Barred contender
Teaches: Brazilian Jiu Jitsu, Muay Thai Kick boxing, MMA Mixed Martial Arts
Eduardo Mori
Eduardo Mori was born in Brazil. He grew up in a community where the fear of getting hurt, for the most part, is on the back of people's mind because fighting is an everyday occurrence. At the age of six, he started training Kyokushin Karate. After several years of training, his self-confidence increased and sparked his interest, enthusiasm and passion for martial arts. He then became aware in the effectiveness and the real-life application of Brazilian Jiu-Jitsu for self-defense and began training at the age of thirteen. After training Brazilian Jiu-Jitsu for five years, he moved to Japan and received his training in Judo and Muay-Thai. With dedication towards Judo, Eduardo received his black belt and is now at the third degree level.
Eventually, he moved back to Brazil and continued to train in Brazilian Jiu-Jitsu & Muay-Thai. He trained alongside some of the prominent champions in the Mixed Martial Arts world such as Vitor Belfort (former UFC Champion), or Paulo Filho (a WEC middleweight champion, a Pride FC competitor, and a  three time world Brazilian Jiu-Jitsu champion). He also participated with the Carlson Gracie's team to hone his skills towards perfection. After ten years of dedicated training in Brazilian Jiu-Jitsu, Eduardo earned his black belt.
Eduardo then moved back to Japan where he opened up the first Brazilian Jiu-Jitsu Academy in the country. He fought in several No Hold Barred matches in Japan, including Pancreas, Submission Art Wrestling (SAW) Fights, and several Muay-Thai and Kyokushin Karate tournaments. With continuous success, he decided to compete in America. In 1999, Eduardo moved to Chicago where he fought in the Extreme Fighting Competition (another No Hold Barred style competition) and achieved an undefeated record of 9 wins with zero loss.
He then decided to devote his career to being a Martial Arts trainer. (notes: why decide to train?) Eduardo has now been living in Utah for the past six years, teaching and training Brazilian Jiu-Jitsu, Muay Thai and Mixed Martial Art students. In order to prevent the deterioration of his Martial Art skills, he has continued to go back to Brazil to sharpen his techniques with some of the best Martial Artists in the world.
With 17 years of dedicated experience, Eduardo Mori has passionately devoted a large portion of his life in the art of Brazilian Jiu-Jitsu. Because of his comprehensive experience and background that covers a wide range of grappling, striking, and take-down techniques, Eduardo has been able to train outstanding contenders for Brazilian Jiu-Jitsu/Grappling and No Hold Barred competitions.
Currently, Eduardo is the owner of the Mori Training Center of Brazilian Jiu-Jitsu in Ogden, Utah with over 150 students.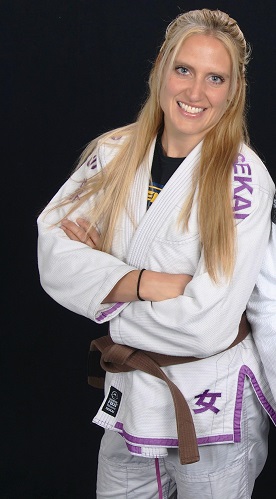 Brazilian Jiu-Jitsu Brown Belt
Personal Trainer/Fitness instructor
Zumba Instructor
Masters Degree in Health Sciences and Education
Cross Fit Certified 
Teaches: Brazilian Jiu Jitsu
Rachel Mori
        After marrying Eduardo in 2000 Rachel took interest in Jiu-Jitsu mainly for fitness reasons. However, after about a year she got more into it and wanted to start training more seriously for competions. She began competing in Grapplers Quest the next several years winning golds several times and placing sliver a few times too. She earned her blue belt In 2002
In 2005 she earned her purple belt and continued to compete locally and out of state. In 2005 at one local competition with not enough women she placed 1st in the men's division as well. 
In 2006 they had their first son. When he was 2 years old in 2008 Rachel competed in World Purple Belt placing 3rd.
Rachel took some time off and had 2 more girls .
 In 2012 she got on the mats competing in NAGA placing 2nd and later that year in S7 and again in Grapplers Quest in 2013 placing 2nd in Advance women's division. 
In 2015 she won 1st in gi and no gi advance division in Idaho at  North American Grapplers competition. 
More recently she placed 1st in Purple Belt Gi divsion and 2nd in No Gi advance division in Vegas. 
Rachel also has a Master's Degree in Elementary Education. She has a current teaching licence and is a PE Specialist for 2 schools in Ogden. She has tons of experience working with children. She started the kids program with Eduardo in 2002.